Italian Bomboniere Favors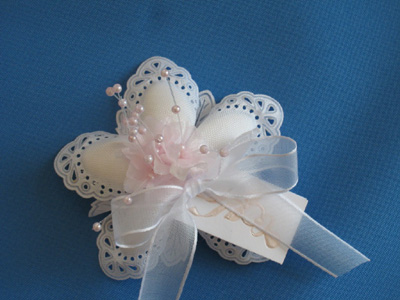 A long-standing tradition in Mediterranean and Middle Eastern countries is to offer a small gift (bomboniera) to each person or each family who is a guest at the receptions given for special occasions such as weddings, baptisms and anniversaries. Tradition holds that confetti (candies) are presented to each person or family (and may be presented with a special gift) as recognition for their support and good wishes.
Five (5) confetti are typically included in the bomboniera to represent wishes for health, wealth, fertility, happiness and longevity.
A bigliettino (little tag) or imprinted ribbon is attached with the date of the event along with names (as appropriate).
Our Bomboniere


We are pleased to offer a large variety of bomboniere – all exclusively imported from Europe. Choose from prepared bomboniere, ask us to custom-make something for you, or purchase our bomboniere packaging items and design your own. Our items are "made in Italy" not "made in China".

Confetti flowers from Confetti Pelino Sulmona

Traditional bomboniere prepared by artisans in Italy and America, using luxurious fabrics of silk, taffeta and organza


A large variety of gift items in silver or silver plate, Capodimonte and porcelain, crystal and glass (including Murano glass) - all imported exclusively from Europe
Add a personal touch with a bigliettino (favor tag) or imprinted ribbon. Customize with different colors for ribbons and a wide variety of decorative items (flowers, charms and more). Please allow 4-8 weeks for standard delivery. Some items in stock for immediate delivery. Don't see exactly what you're looking for? Contact us and we'll search for you until we find it!