About Our Italian Confetti Candies

The world-famous, prize-winning, sugar-coated candies known as "confetti" are now available from the House of Pelino in the United States — still made by hand in a four-day process with a recipe over 300 years old and with much of the original equipment, continuing the tradition of the Pelino family. They are made without flour or other starches, something that is very unusual, even for Italian confetti. Italian confetti are NOT Jordan Almonds. Try them and you'll be amazed at how delicious they are! Soft to the bite with a delicate sugar coating - nothing hard or crunchy at all.

The Full Line of Confetti Pelino - For the First Time Ever in North America
Confetti Pelino & Bomboniera USA is proud to be the exclusive retailer for the entire line of Pelino candies in North America. We work directly with the Pelino family to ensure the highest levels of quality, freshness and customer satisfaction.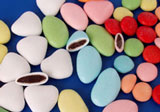 These fine candies can be enjoyed on their own, fashioned into flowers by our Italian artisans, or used in custom-made bomboniere (favors).
Why Five Confetti?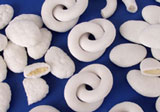 What do the confetti represent in the traditional bomboniere? Typically, five confetti are used to represent wishes for health, wealth, fertility, happiness and longevity. If not five, than an uneven number is always used as even numbers are considered unlucky.
The confetti come in many colors, used traditionally for the following:
White or Ivory for weddings and bridal showers

Silver for 25th anniversaries

Gold for 50th anniversaries

Light blue, white, ivory, or pink for baptisms, christenings and baby showers

Red for graduations

Green for engagements

Lilac for same sex marriages

Yellow for baby showers (only available every once in awhile)


Also available in other colors periodically
The confetti are available in many varieties. See the Confetti section of our website for all the choices.

The candies are packaged in decorative Pelino bags and boxes of various sizes. Prices for confetti start at $36.00 per KG (2.2 lbs.), depending on the variety. Quantity discounts available. Contact us for wholesale pricing or quantity discounts. We do carry a large inventory of confetti, but please allow 6-8 weeks for large quantities of confetti or for those varieties we do not carry regularly in stock.
Looking for a variety of confetti you don't see here? Contact us - we sometimes have other flavors available.