About Our Italian Confetti Flowers
Italian Confetti Flowers from Confetti Pelino Sulmona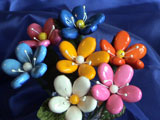 These beautiful flowers are made with the confetti candies and are wonderful as favors, hostess gifts, napkin rings, as decorations on a wrapped gift and more. Flowers are available as single stems or arranged in satin baskets as centerpieces. Wonderful for weddings, showers, baptisms, christenings, or even special parties as favors for guests.


Unique Single Stems and Centerpieces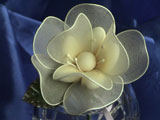 Each flower is handmade, taking the confetti candies, wrapping them in colored cellophane, tulle or other fabrics into petals, and creating beautiful flowers. Put a single flower in a napkin or across a plate as decoration for your special celebrations. Pull several flowers together into little bouquets to give as gifts. Tie a lovely satin bow to the stem to add a special touch. Attach a bigliettino (little favor tag) or imprinted ribbon and use a flower as a bomboniera (favor). You can even create a bouquet to mirror a bridal bouquet and have as a keepsake.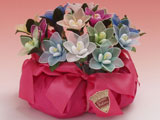 Colors, Varieties and Options for Confetti Flowers
The flowers come in a wide range of colors depending on the materials used to make the flowers. Colors include white, ivory, yellow, golden yellow, orange, peach, brown, red, bordeaux, light blue, medium blue, dark blue, light green, bottle green, bright green, lilac, violet, pink, bright pink, bordeaux, silver and gold. from white to yellow to blue and more.
There are hundred of varieties of flowers to choose from - daisies, roses, lilies, fruits, butterflies and more. We can almost certainly make a specific flower you might want.
Each flower order can be customized to your specifications including
optional items
- type of flower, color of flower, in baskets or as single stems, color of baskets (if using the satin baskets), with tag or without. We can also create beautiful centerpieces by arranging flowers in
satin baskets
. The satin baskets are available in a range of colors designed to coordinate with the flowers and come in sizes that can accommodate from 8-10 flowers up to more than 50 flowers.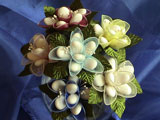 Flowers start at $2.50 for single stems. Allow 6-8 weeks for delivery time. Rush orders can often be accommodated for an extra fee. Some items available in stock for immediate delivery. Many other flowers available but not pictured. If there is a particular variety of flower you are looking for, contact us.