About our Gift Items
We offer a variety of European gift items - all imported directly from Europe. We've found the very best vendors in Rome, Milan, Florence, Sulmona, Bohemia, London, Greece and other parts of Europe and brought their merchandise to our customers. Most of the items are exclusive to Confetti Pelino USA - you will not find them anywhere else in North America. Most items are special order. Allow 8-10 weeks for delivery. Many items available that are not pictured here. Contact us! See our Facebook photo albums for the wide variety of gifts and favors available to order.

Our items are the real deal - they are authentic european items. Don't be fooled by favors you see called "Murano" or "Capodimonte" at ridiculously low prices - these items are most often made in China, and are not authentic. You get what you pay for!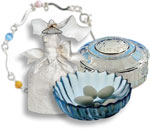 We offer the following categories of gift items - choose from a wide selection of items in a range of prices:
• Capidomonte Porcelain
• Swarovski Crystal
• Murano Glass
• Coffee Sets, Cups and Spoons
• Silver, Silverplate, Stainless and Pewter
• Crystal and Glass
• Porcelain, Ceramic and Resin
• Jewelry
• Flowers and Figurines
• Frames, Pictures and Foto Albums
• Bowls, Baskets, Plates, Trays and Baskets
• Vases
• Candleholders and Candles
• Unique Gift Items
• Attendants and MOB Gifts
• Godparent Gifts
Want to add a special touch to your holidays?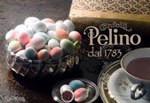 We are pleased to bring you items for the following:
• Easter
• Valentine's Day
• Mother's Day
• Christmas
Looking for something in particular?

We are happy to search for just the right thing.
Contact us with your specific requests.

Coming Soon - Bellini Favors
We've heard from our customers that you'd like us to offer the favors you see on other websites, so we're getting it all pulled together. Our website will be up in the fall. In the meantime, you can view the Bellini Favors Facebook Page to see the full array of favors from US-based vendors that we can offer. We can take orders at any time. Call for pricing.